Description
Details
The first universal guitar effects processor and interface for all Android devices
Experience near-zero latency guitar and effects processing with AmpliTube on Android devices
A new era for making music on Android has arrived:iRig UA is the first digital effects processor and interface to allow universal near-zero latency processing with AmpliTube on all Android devices compatible with Android 4.0 or higher and that support host mode/USB OTG. Now you can enjoy high-quality real time effects processing on your Android device no matter whether it's from Samsung, Sony, Motorola, LG, HTC, Xiaomi or any other popular manufacturer.
iRig UA features a first-of-its-kind built-in digital signal processor (DSP) that solves the Android platform's issue of manufacturer fragmentation and OS latency by moving all processing to an external accessory. The key to the solution lays in iRig UA's DSP and its built-in companion app, AmpliTube UA. The DSP inside iRig UA provides the latest generation of mobile modeling technology, which can be controlled via AmpliTube UA — this provides you with an easy-to-use graphic user interface that lets you edit your guitar rig and save or recall presets instantaneously.
A versatile system, iRig UA can also be used as a digital recording interface when connected to a Samsung Professional Audio compatible device or smartphone or tablet with Android 5.0.
With iRig UA, the most popular mobile digital guitar interface and virtual guitar multi-effects processor app have finally landed on Android.
Features
Works on any Android device with host mode/USB OTG
Near-zero latency digital FX processing
Digital audio recording on Android 5.0 and Samsung Professional Audio Devices
32-bit digital signal processor
24-bit converter with 44.1/48KHz sample rate
High-definition, low-noise preamp
Includes AmpliTube UA
Analog aux input for play-along and practice
Headphone output and volume control
Multicolor LED
Ultra-compact and lightweight design
Micro-USB port
Plug-and-play on Android
iRig UA sounds great right out of the box. Just plug it into your Android device via the included OTG connector and you'll be ready to go. It features a built-in 32-bit digital signal processor, a 24-bit A/D converter, a 44.1/48KHz sample rate, a crystal clear low-noise preamp and an ultra-compact enclosure. With its premium specifications, it's able to provide great sound, extreme portability and an unprecedented cross-platform compatibility.
iRig UA's on-board digital signal processor works in conjunction with AmpliTube UA, a special version of IK's powerful guitar and bass multi-effects processor designed specifically for use with iRig UA — because all of the processing is handled on iRig UA, and not on the Android device, it's able to provide consistent near-zero latency performance (down to 2 ms round-trip total latency) that's independent of the make and model of your connected smartphone or tablet.
AmpliTube UA has landed
iRig UA comes with AmpliTube UA, a full-featured version of the guitar and bass multi-effects processing app that's revolutionized the way musicians make music while on the go.
AmpliTube UA provides a generous and expandable library of fully adjustable models of some of the most coveted gear in music history. It lets you create and process your tone with a guitar or bass rig with 3 stompbox effects, an amplifier and a cabinet with IK's accurate volumetric response modeling, a microphone and a tuner. And, unlike other editions of AmpliTube, AmpliTube UA lets you get even more creative by letting you place your stompbox effects either before or after the amplifier in your signal chain.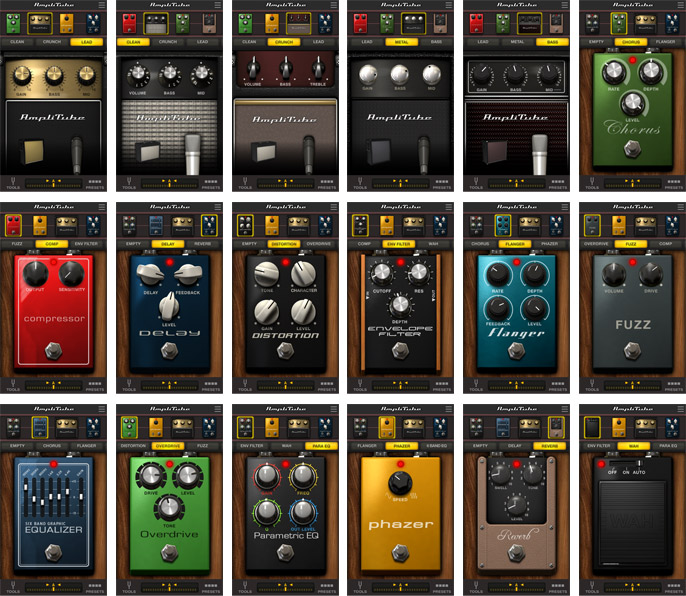 Comprehensively connectible
The pairing of iRig UA and AmpliTube UA is perfect for when you need to practice while on the go. iRig UA features a 1/4" input for a guitar, bass or other line-level instrument, a micro-USB to OTG cable and an 1/8" headphone output with volume control.
It also sports a 1/8" input that lets you connect your Android device or other external sound source so you can jam along to your favorite tunes while using the power of AmpliTube.
Product Details
Product Details
| | |
| --- | --- |
| UPC | 8025813593039 |
| Platform | Hybrid (Mac and PC) |
| Manufacturer | IK MULTIMEDIA |
Reviews
Tags
Questions? Answers!
Not What You Are Looking For? View other products in this category:
Web-form is not active.